TimeWaver – Finding and resolving causes in the information field
TimeWaver analyses causes of diseases and disorders in the information field and balances them there. Information field medicine is based on the theory of a physical-mental field from where all material, energetic and psychic processes are managed.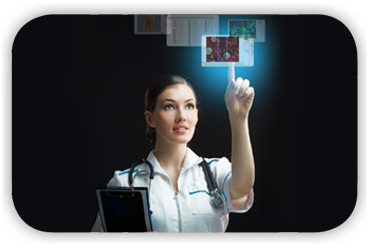 We call the analysis in the information field and the re-establishment of the balance optimization or balancing.
The analysis applies to the ten most important levels of a human being, among other things the organ functions, the oscillations (frequency level), the electricity and energy of the body and the pure information level. The levels extend to the psychical and the consciousness level as possible causes of diseases.
TimeWaver Med also finds in the information field the equivalents of diseases which relate to viruses, bacteria or toxins. Note: The present science and orthodox medicine do not acknowledge the existence of information fields and their herein explained medical importance. Information field medicine does not apply to the physical body but exclusively to the informational body of the person. The aim is not the recognition, alleviation or prevention of diseases but the recognition and dissolution of disturbances in the information field. TimeWaver Med does not replace a visit to a physician or a therapist. The content of this website therefore is meant for medical staff and health professionals only.
Inventor, entrepreneur, visionary: Marcus Schmieke is the inventor and developer of the TimeWaver System and this integrative therapy method. He recognized very early that the problems of natural science and medicine cannot be solved without the help of spirituality and philosophy.
He systematically researches the natural-scientific principles of energy medicine since 1994. He published many books and articles in this field and thus developed the TimeWaver System through his work with medicine, philosophy and physics, a system that has experienced huge and lasting success in numerous countries.
Marcus Schmieke is Visiting Professor at the Dev Sanskriti University (Haridvar / Indien) since September 2007 and coordinates as head of the "IACR – Institute for Applied Consciousness Research" several projects of basic research regarding interactions between natural science, consciousness and information fields.
Marcus Schmieke lives and works in Kranzlin Castle near Berlin.
Note: The remote diagnostics and remote optimization with TimeWaver is located at the beginning of the scientific review. Despite the positive experience of hundreds of users that is unrecognised by the traditional medicine it is also not used like all other natural remedies. Therefore this test does not replace a visit to your doctor or health practitioner.